This vegan asparagus mushroom pasta recipe features the best of spring vegetables and takes less than 30 minutes to make. This recipe is quick and easy to make, and you only need one pot to make this!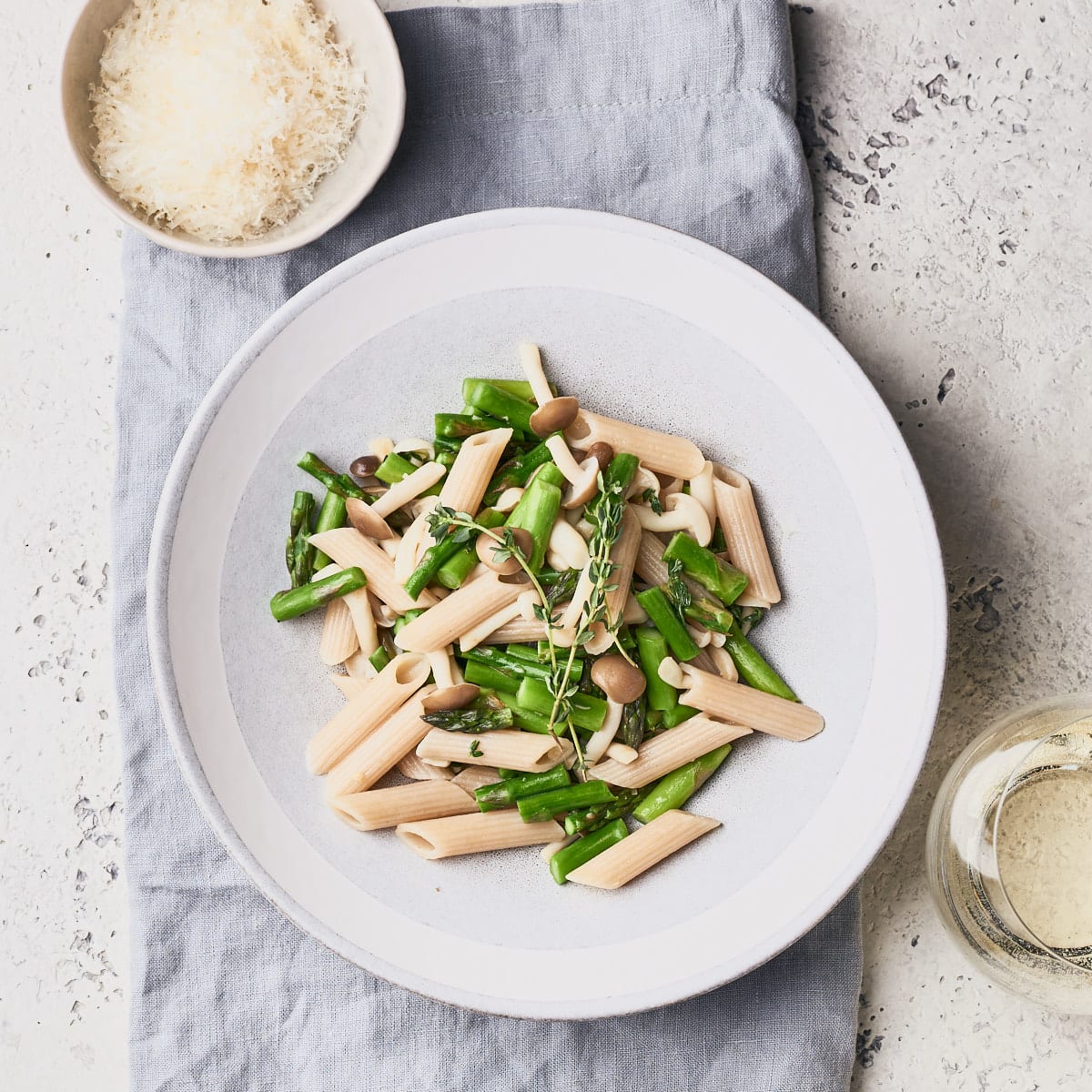 Jump to:
What inspired me to make this dish was seeing all the beautiful and fresh spring produce available. The tender and thin stalks of young asparagus are among my favorite spring veggies. The slimmer asparagus taste the best to me, as they are so green, grassy and fresh. However, you can use the thicker asparagus. Be sure to snap the ends off first. For the photo below I trimmed the asparagus evenly, but this is a step I usually skip.
How to select asparagus
Although I prefer the thinner stalks of asparagus, the thicker ones will work fine in this recipe. Thickness is not an indicator of freshness but maturity. Avoid asparagus with woody stems, since they lack flavor and freshness.
Look for purplish tips and bright green color when you are shopping for asparagus. You can see a faint violet tinge in the tips of the asparagus above. Avoid the stalks with limp stems, since they should be firm.
Another indicator of freshness is closely tipped asparagus. Have you ever heard asparagus squeak when you grab a fresh bunch? That is how they should sound.
How to keep asparagus fresh
When you bring the asparagus home from the grocery store or the market, snap off the tough ends. Fill a mason jar with water and place the asparagus in the jar upright with so it can absorb the water through the snapped ends. I tried this recently and the asparagus was much fresher than it otherwise would have been. I'm going to do this from now on!
Which mushrooms do I use?
I also came across these organic Japanese mushrooms which I ended up using in the pasta recipe. The white beech mushrooms pictured above, also known as bunapi mushrooms, are clean tasting and delicate. They are less earthy tasting than cremini or baby Portobello mushrooms. They pair quite well with the grassy taste of the asparagus and the flavor of the fresh thyme. Pictured below are brown beech mushrooms, also known as bunashimeji, which are delicious in this recipe as well.
How do I select mushrooms?
Look for fresh mushrooms that are smooth, plump and firm. Avoid those that look dried out or damp. Many of the cremini and portobello mushrooms I see have exposed gills. Exposed gills means that they have a richer flavor than those with covered gills. Those with covered gills have a lighter and more delicate flavor. Keep this in mind if you choose these mushrooms.
You can use whichever variety of mushrooms is available. My favorite mushrooms are the white beech or brown beech mushrooms. I find that the cremini mushrooms overpower the asparagus with their earthiness and the flavor of the thyme is not as pronounced. However, feel free to try whichever mushrooms suit your taste!
What ingredients do I need?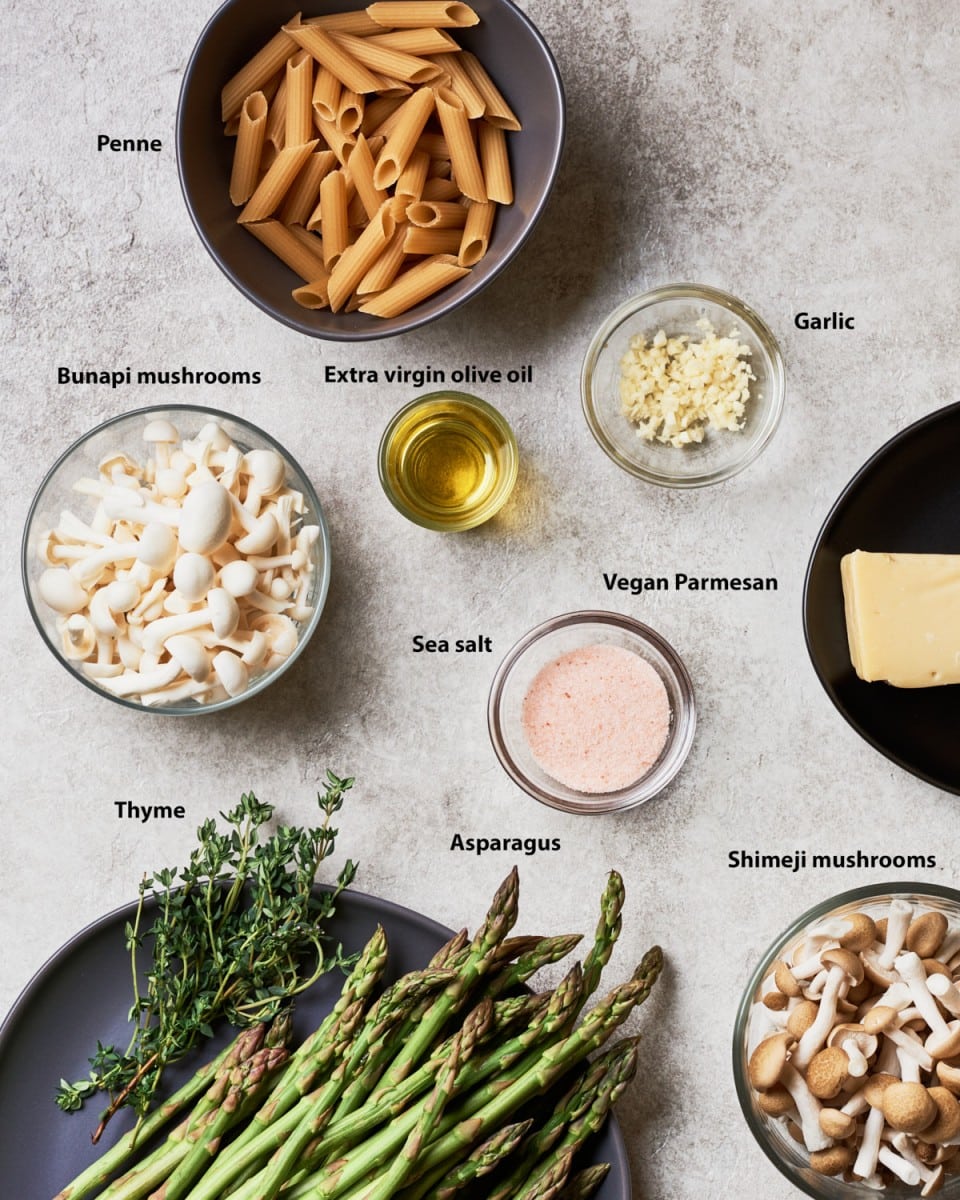 To make this pasta, you will need:
penne pasta - I chose brown rice gluten-free penne pasta
asparagus
garlic
mushrooms - I chose white and brown beech mushrooms
sea salt - I like to use Himalayan sea salt or Celtic sea salt
extra-virgin olive oil
fresh thyme
vegan butter, or more extra-virgin olive oil
vegan Parmesan (optional)
a couple of tablespoons of water, vegetable stock, or white wine to deglaze the pan if needed
How do I destem fresh thyme?
Rinse the fresh thyme with stems in cold water and dry gently with a soft towel. Hold the top of the stem with your left hand and pull the leaves off in a downward motion with your right thumb and index finger. This will take the leaves off easily. Crush the leaves gently before adding them to the pasta to release the flavor.
If your thyme is fresh, the stems will be soft and they are edible. However if your thyme is on the dry side, you can hydrate it by soaking it in cool water for about 10 minutes or so. If your thyme stems are woody, those are inedible.
Although I used gluten-free penne pasta, you may use whichever pasta you prefer. I like to experiment with different varieties of pasta. Our household is not gluten-free. However, I love the 100% organic brown rice penne I used in this asparagus and mushroom pasta.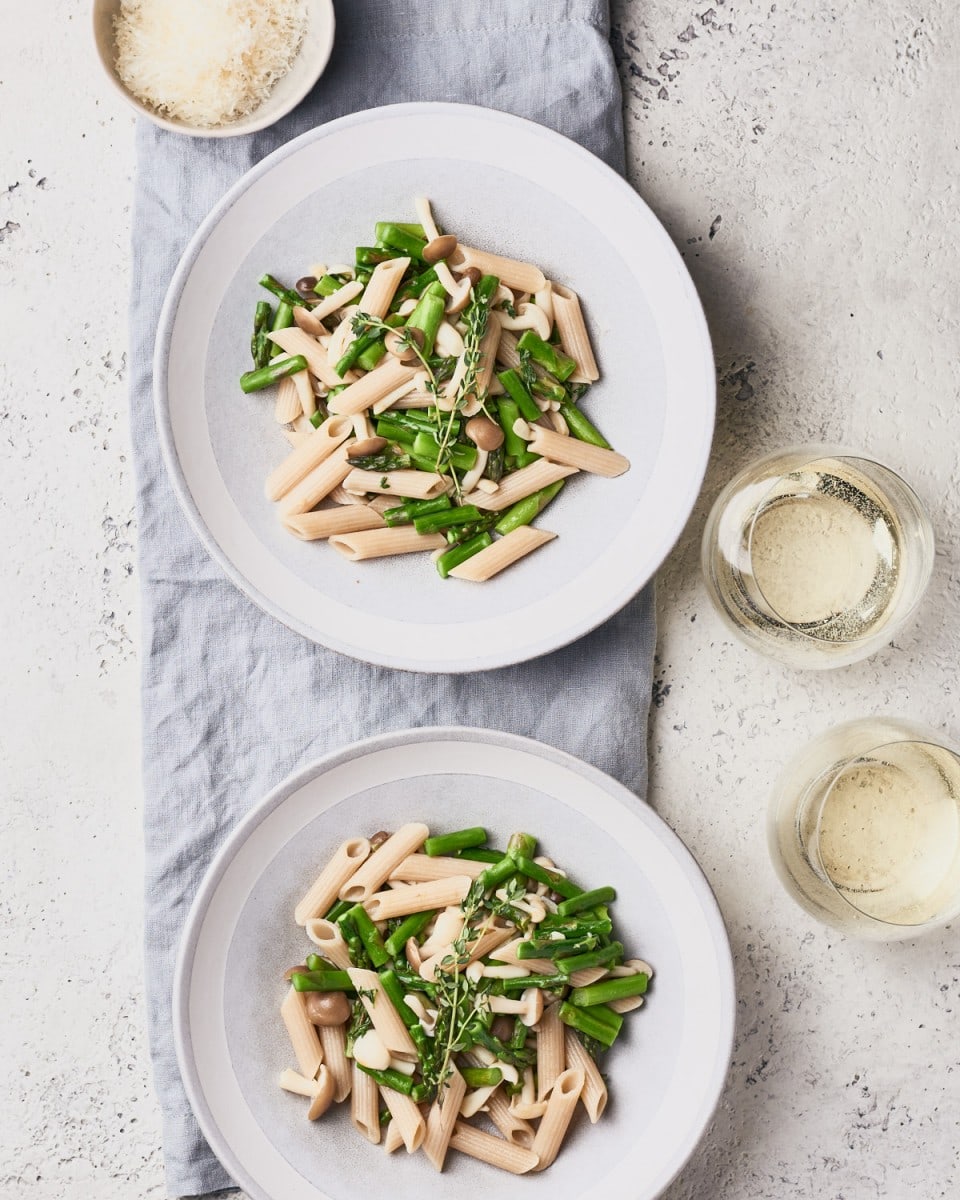 Let me know how you enjoy this asparagus mushroom pasta dish full of bright spring flavors that is ready in less than thirty minutes! For more delicious recipes, take a look here.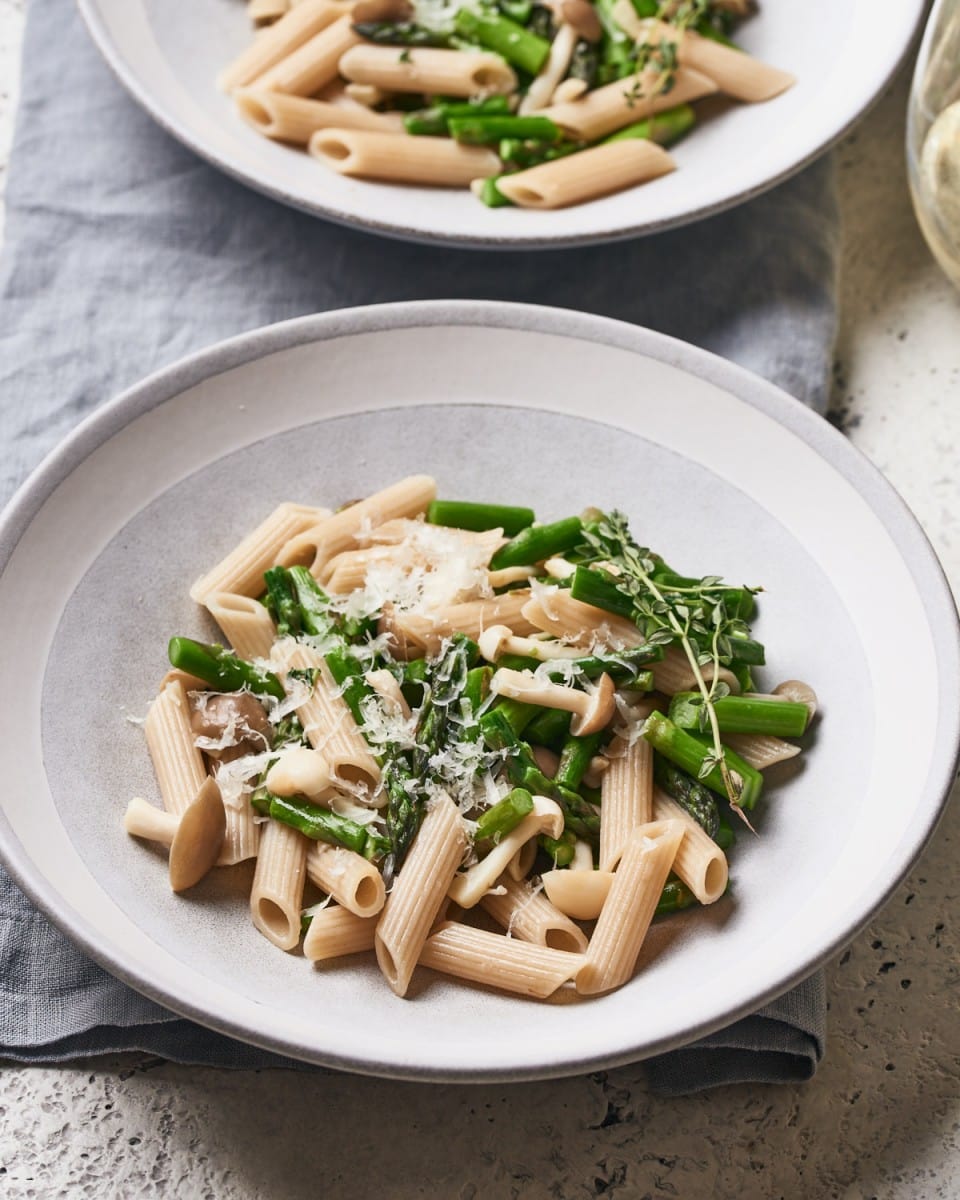 If you would like to accompany this pasta with a salad, try this delicious Southwest Salad which is perfect for meal prepping.
My Perfect Vegan Pesto recipe can be used as a sauce for this pasta as well.
More recipes to try
Easy Vegan Meatballs with Vegan Marinara Sauce
Wild Mushroom and Leek Risotto
Vegan Polenta with Roasted Mushrooms
I'd love to hear from you! If you make this Asparagus Mushroom Pasta, let me know what you think by ★ star rating it and leaving a comment below. It would make my day. You can also follow me on Instagram and share your creation with me. Just tag me @resplendentkitchen and hashtag #resplendentkitchenrecipes, so I don't miss it.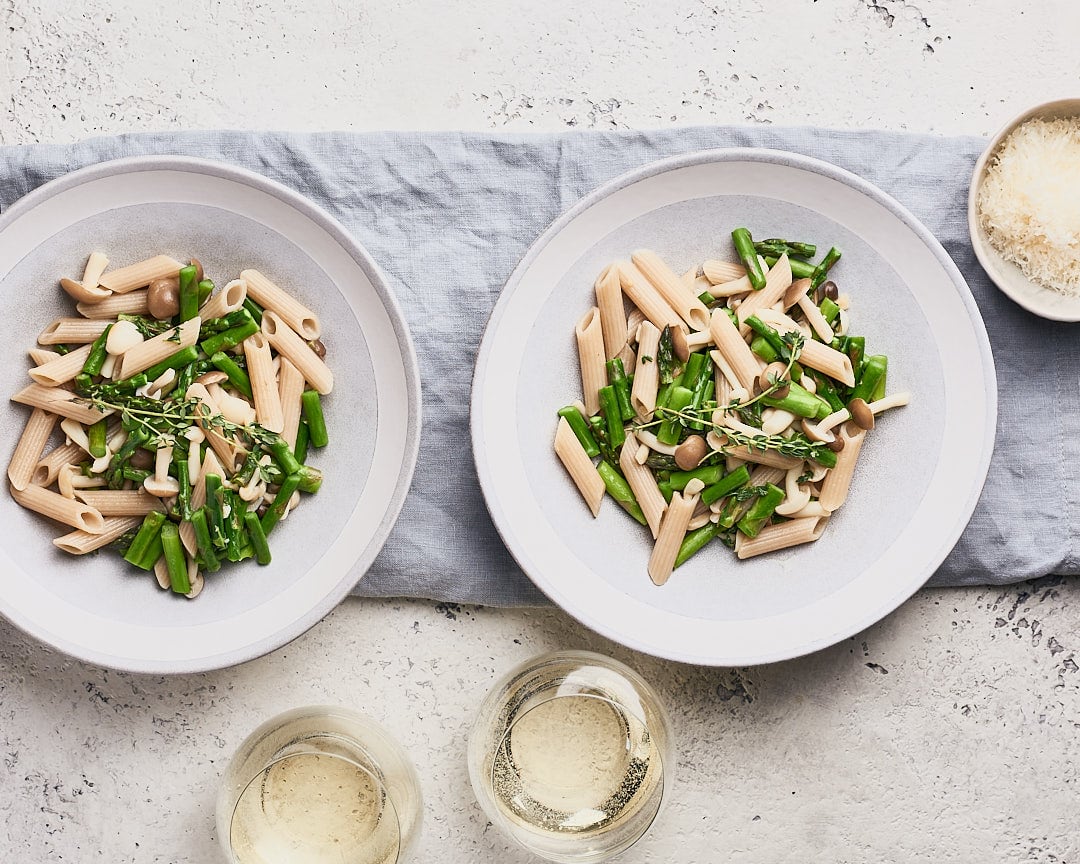 📖 Recipe
Asparagus Mushroom Pasta
This asparagus mushroom pasta features the best of spring veggies and takes less than 30 minutes to make. You only need one pot to make this vegan and gluten-free pasta!

Ingredients
4

oz

brown rice gluten free penne pasta

or pasta of your choice

1

pound

asparagus

snap off the tough ends, cut into 1-inch pieces

1

tablespoon

extra-virgin olive oil

2

cloves

garlic

minced

7

oz

mild flavored mushrooms

chopped into 1-inch pieces

½

teaspoon

sea salt

plus 1 tablespoon for pasta water, to taste

1

tablespoon

vegan butter

or extra-virgin olive oil

2

teaspoons

fresh thyme

destemmed, crush gently before adding to the pasta, reserve a few sprigs for garnish

2

tbsp

grated vegan Parmesan

optional
Instructions
In a medium saucepan, bring to boil approximately 3 quarts of water on medium heat. In the meantime, gather and prep ingredients.

When water is boiling, add 1 tablespoon sea salt, then add the pasta and stir immediately. Cook pasta up to 2 minutes before the recommended cook time period for the pasta, stirring occasionally throughout.

Two minutes before the pasta is done, add the asparagus to the boiling water, and cook for 2 to 4 more minutes, stirring occasionally, until the asparagus turns bright green and the pasta water starts gently boiling again.

Drain the asparagus and pasta in a colander. Do not rinse. Reserve a small amount of pasta water.

Place the empty saucepan back on medium heat. Add 1 tablespoon olive oil and after 30 seconds or when the oil starts to shimmer, add garlic. Stir the garlic continuously for 30 seconds, do not let the garlic turn brown. If it starts turning golden, add the mushrooms and stir immediately.

After adding mushrooms, stir, and add ½ teaspoon sea salt,1 tablespoon of vegan butter, and thyme. Sauté for at least 3 to 5 minutes, stirring frequently on low-medium to medium heat. If you are seeing browned bits on the bottom of the saucepan, you can deglaze with a couple of tablespoons of the reserved pasta liquid.

Stir in the pasta with asparagus. Add a couple of pinches of sea salt to taste. Keep stirring for a couple of minutes, until the vegetables and pasta are heated through.

Serve immediately. Add freshly cracked black pepper as desired, and grated vegan Parmesan if desired. Garnish with sprigs of fresh thyme.
Notes
Feel free to use whichever pasta you like. I found a brown rice gluten-free pasta that I really enjoy as the best alternative to wheat pasta.
The vegan Parmesan is entirely optional and is not needed.
You can deglaze the sauceopan by adding reserved pasta water, a couple of tablespoons of water, vegetable stock, or white wine if you are enjoying some with your meal. I don't usually find it necessary to deglaze since the mushrooms usually release enough water.

Nutrition
Serving:
1
person
Calories:
390
kcal
Carbohydrates:
57
g
Protein:
11
g
Fat:
14.5
g
Vitamin C:
18.2
mg
Calcium:
60
mg
Iron:
5.4
mg